When we talk about search engine optimization the first thing I think about is keywords. A keyword according to Wikipedia is " A word describing a concept found in a document such as a Web page, constituting part of the metadata for the document". The metadata in a web page is located in what is called the head of the document.

A HTML document has two parts we will discuss here, the head and the body. For the sake of this tutorial the head of the HTML document contains the following tags, the page title, description, and the keywords.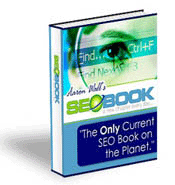 The best resource tool I have found for helping me with my search engine listings is the SEO Book. I find that this book which is in PDF format and is updated regularly is invaluable when I am raising the search enging rankings for my clients. SEO Book was wrote to offer the latest SEO tips and techniques to novice to intermediate level search engine marketers.

If you have been working with search marketing since 1995 this probably is not the book for you. Having said that, even if you are a long time search professional you still would be able to learn about a few tips and see a few new tools you have never seen before. If you would like to learn more about this book just click on the image.